Long term control of static electricity through coating to prevent release static electricity during the manufacture process of flat panel displays! Furthermore protection of glass substrate!

Release static electricity prevention series for vacuum chuck plate
NF-685B、NF-685、NF-718ECB

In FPD process, glass substrate sizes are increasing and devices are required higher definition, as technology progresses astonishingly.
At the same time, the importance of countermeasure against static is increasing, and becomes essential to have more effective measure against release static electricity than before.
Nippon Fusso's "release static electricity prevention coating" helps to reduce release static electricity to a much greater extent than existing stage surface treatment such as anodized aluminum, plus it is also much longer lasting. We also realized application to clean room interiors which can also be used on large scale stages, earlier than our competitors. Furthermore, the establishment of our unique application technology, developed through many years of experience and achievements, has made us able to handle "high quality, "high precision," "large scale" stages, contributing to the improvement in FPD manufacture process yield.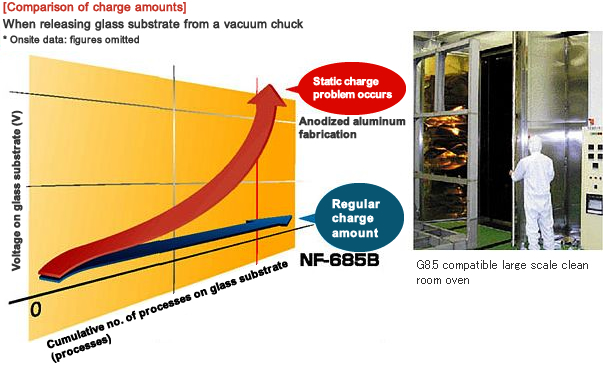 Stable performance even in a vacuum environment (low humidity environment)
The organic materials used in OLED deteriorate due to moisture and oxygen, so vacuum equipment is often used in OLED manufacture processes.
Also, the problem of release static electricity is very serious in low humidity vacuum environments, as it is difficult to neutralize glass substrate.
Release static electricity prevention coating NF-685B is not dependent on humidity environment, and performs with stability even in a vacuum environment, preventing all types of static electricity damage caused by release static electricity.